'engaged' is a program designed for high school aged participants that aims to promote awareness, understanding and critical engagement of a range of social issues and injustices that affect young people in the local and global community.
Throughout 'engaged', participants are encouraged to brainstorm practical ways that they can become active change-makers and community influencers. 'engaged' seeks to involve students through content delivery, dialogue, creative engagement and experiential learning, appealing to a range of learning styles.
'engaged' covers seven topics, these are designed to identify both local, global and personal themes that students may already be engaging in, such as mental health, community belonging, climate change or global poverty. The program topics include:
Environment and Climate
Aboriginal and Torres Strait Islanders
Inclusive Communities / Mental Health
Homelessness
Refugees and Welcoming New Australians
Nonviolence and Conflict
Global Equality / Poverty
The program aims to help:
Develop sense of belonging and self efficacy
Recognise mental health concerns in themselves and friends
Promote community engagement
Development of Locus of Control (knowledge of consequences of actions)
Develop understanding of local and global issues
Develop confidence to practically engage in social issues
Build on cooperative teamwork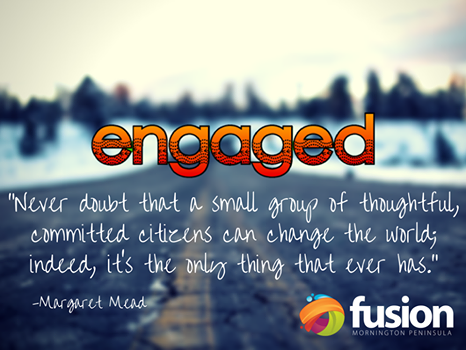 Want to know more?
Engaged is run at Fusion Mornington Peninsula but can be adapted to be run in a school or community setting.
If you have any questions or ideas, please don't hesitate to get in touch, we'd love to hear from you!